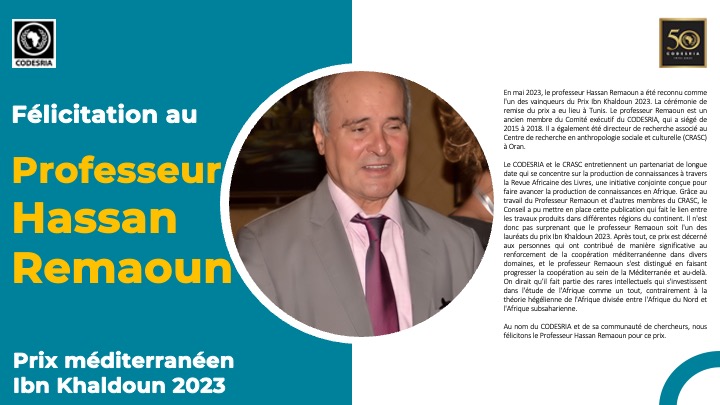 Prix méditerranéen Ibn Khaldoun 2023 : Le Pr Hassan Remaoun distingué
En mai 2023, le professeur Hassan Remaoun a été reconnu comme l'un des vainqueurs du Prix Ibn Khaldoun 2023. La cérémonie de remise du prix a eu lieu à Tunis. Le professeur Remaoun est un ancien membre du Comité exécutif du CODESRIA, qui a siégé de 2015 à 2018. Il a également été directeur de recherche associé au Centre de recherche en anthropologie sociale et culturelle (CRASC) à Oran.
 
Le CODESRIA et le CRASC entretiennent un partenariat de longue date qui se concentre sur la production de connaissances à travers la Revue Africaine des Livres, une initiative conjointe conçue pour faire avancer la production de connaissances en Afrique. Grâce au travail du Professeur Remaoun et d'autres membres du CRASC, le Conseil a pu mettre en place cette publication qui fait le lien entre les travaux produits dans différentes régions du continent. Il n'est donc pas surprenant que le professeur Remaoun soit l'un des lauréats du prix Ibn Khaldoun 2023. Après tout, ce prix est décerné aux personnes qui ont contribué de manière significative au renforcement de la coopération méditerranéenne dans divers domaines, et le professeur Remaoun s'est distingué en faisant progresser la coopération au sein de la Méditerranée et au-delà. On dirait qu'il fait partie des rares intellectuels qui s'investissent dans l'étude de l'Afrique comme un tout, contrairement à la théorie hégélienne de l'Afrique divisée entre l'Afrique du Nord et l'Afrique subsaharienne.
 
Au nom du CODESRIA et de sa communauté de chercheurs, nous félicitons le Professeur Hassan Remaoun pour ce prix.
Ibn Khaldoun Mediterranean Prize 2023: Professor Hassan Remaoun honoured
In May 2023, Professor Hassan Remaoun was confirmed as one of the winners of the 2023 Ibn Khaldoun Prize. The prize award ceremony took place in Tunis. Prof. Remaoun is a former member of the CODESRIA Executive Committee having served for the period 2015 to 2018. He is also former associate research director at the Center for Research in Social and Cultural Anthropology (CRASC) in Oran.

CODESRIA and CRASC have a longstanding partnership that focuses on knowledge production using the Africa Review of Books, a joint initiative designed to advance the production of knowledge in Africa. Through the work of Prof. Remaoun and others at CRASC, the Council was able to initiate this publication that connect work produced across different regions of the continent. It is therefore not surprising that Prof. Remaoun is one of the winners of the 2023 Ibn Khaldoun Prize. After all, the prize is awarded to persons who have made a significant contribution to the strengthening of Mediterranean cooperation in various fields and Prof. Remaoun has a distinguished record of advancing cooperation within the Mediterranean and beyond. Perhaps he is among the few intellectuals whose investment in the study of Africa as a single whole, as opposed to the Hegelian contraption of Africa divided between North Africa and sub-Saharan Africa.

On behalf of CODESRIA, its community of scholarship, we congratulate Prof. Hassan Remaoun for this award.