Today we are excited to announce the publication of the long-awaited open access sequel to our 2019 volume « Building Development Studies for the New Millennium« ! Under the title « Challenging Global Development« , the book examines the contexts in which decoloniality, solidarity, and conviviality can be developed and provides a reconsideration of how knowledge is produced, validated, and disseminated. On another note, and in the context of last week's UN International Day for the Eradication of Poverty, our two latest blog posts shed the light on the reasons for the dramatic failure in this regard and come up with constructive proposals to turn the wheel around. Our thematic focus is on migration today, enjoy the read!

Out Now: Challenging Global Development
This book presents contributions to decolonize Development Studies. It seeks to promote and sustain new forms of solidarity and conviviality that work towards achieving social justice. Recognising global poverty and inequalities as historic injustices, the book addresses how these can be challenged through teaching, research, and engagement in policy and practice, and the sorts of political barriers these might encounter. From a variety of perspectives and contexts, these chapters examine how decoloniality and solidarity can be developed, offering in-depth historical, theoretical, epistemological, and empirical analyses. Read more and download the book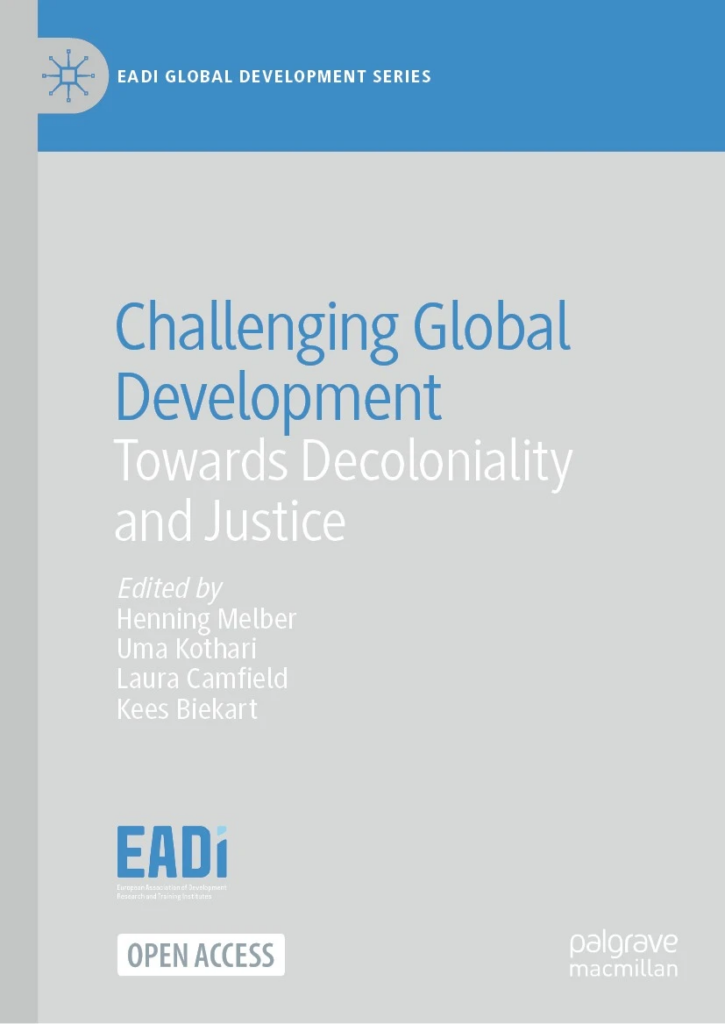 From our Blog: Spotlight on Poverty
Forging renewed commitments towards eradicating extreme poverty The current changing landscape « requires a rethink of the most appropriate and effective ways to reduce poverty and help people to navigate precarity, respond to shocks and increase resilience », write Keetie Roelen and Vidya Diwakar in this blog. They suggest four approaches to move poverty eradication up on the development agenda again, among them linking poverty eradication to the climate change agenda and applying social protection strategies. Read the post
Will growth be enough to end poverty? New Projections of the UN Sustainable Development Goals The basic poverty-related goals « will not be achieved by 2030 without radical changes in policies to address national and global inequalities », warn the four authors of our latest post. They have made new projections across a set of poverty-related SDGs with a sobering outcome, identifying the post-pandemic debt overhang and rising interest rates as root cause of this « catastrophic failure ». Read the post
Remaking the urban in the peripheries: resettlement colonies and differential inclusion in India

31 October, 11:00 CET (online)
Redefining the social geographies and institutional practices of urban marginality, with Karen Coelho Register
Latin America and its challenges under the new and disputed global order

14 November, 15:00 CET (online):
Bringing Latin American structuralism to the forefront, with Víctor Ramiro Fernández Register
Use or misuse? The emerging global challenge of data authoritarianism

16 November, 18:00 CET, Bonn (on site):
EADI/IDOS/CASSIS-Bonn 2023 Megatrend Lecture Register
Highlight: Knowledge in Times of Crisis
The United Nations University World Institute for Development Economics Research provides economic analysis and policy advice with the aim of promoting sustainable and equitable development for all. On 9 November 2023, UNU-WIDER and the African Cities Research Consortium (ACRC) welcome Dr. Arkebe Oqubay, former Senior Minister and Special Adviser to Ethiopia's Prime Minister and former mayor of Addis Ababa, to present types of urban governance that can accelerate transformation. Read more and register The  paper « Will economic growth be sufficient to end global poverty? New projections of the UN Sustainable Development Goals » is the basis for the related blog post above
Transforming Research-to-Policy Approaches

The Covid-19 pandemic resulted in unprecedented challenges for researchers and policy analysts and accentuated the need for access to civil society and advocacy movements within politically closed spaces. The impact of locally led Covid-19 response research in the global South has subsequently raised questions about traditional research methods that often prioritise academic rigour over practical relevance and result in research disconnected from the realities of people's lives. This issue of the IDS Bulletin presents learning gathered from rapidly mobilised Southern-led research. Read more  
Highlight: Development btw Extraction and Compassion
In his inaugural lecture, Ruard Ganzevoort, the new rector of the International Institute of Social Studies in The Hague, argued that compassion could offer a new mindset enabling us to reconceive development in non-extractive ways. He began by defining extractivism as '… a philosophical perspective that questions the broader discourse of the mindset and cultural frameworks of extraction', arguing that '… it is a mindset that is pertinent to our thinking about development, about politics, about economy and much more.' He argued that we need to develop an alternative fundamental mindset that leads to different ways of relating to the world. Read or watch the full lecture
Featured EADI Member: UNU-WIDER
The United Nations University World Institute for Development Economics Research provides economic analysis and policy advice with the aim of promoting sustainable and equitable development for all.
Sustainable cities and structural transformation in Africa in the 21st century
On 9 November 2023, UNU-WIDER and the African Cities Research Consortium (ACRC) welcome Dr. Arkebe Oqubay, former Senior Minister and Special Adviser to Ethiopia's Prime Minister and former mayor of Addis Ababa, to present types of urban governance that can accelerate transformation. Read more and register
Working Paper
The paper « Will economic growth be sufficient to end global poverty? New projections of the UN Sustainable Development Goals » is the basis for the related blog post above
Thematic Focus: Migration Children in refugee camps and their role in refugee-host community integration
Erick Nyambedha, Rose Jaji, Jana Kuhnt – German Institute of Development and Sustainability (IDOS)

Respecting her international obligations? Analyzing Rwanda's 2014 Law Relating to Refugees
Frank Ahimbisibwe – Institute of Development Policy, University of Antwerp (IOB)

Free Movement versus European Welfare States?: Variations of the Fiscal Effects of EU Migrants across Welfare State Regimes
Politics & Society – Österman, Marcus & Palme, Joakim Search in Di – Department of Government Uppsala University

Written on the Body: Tattoo Art as Bridgework in the Post-migration Context
Journal of Borderlands Studies – Cory, Erin E – School of Arts and Communication, University Malmö (K3) Migration and Inequality in the Global South: Evidence from the MIDEQ Hub
United Nations Research Institute for Social Development (UNRISD)

IGAD and forced migration response in the Horn of Africa: Prospects and obstacles
Frank Ahimbisibwe & Cedric M. Nkiko – Institute of Development Policy, University of Antwerp (IOB)

The Local Turns in the Field of Migration
Dilshad Muhammad – Arnold-Bergstraesser-Institut (ABI)

Depression, violence and socioeconomic outcomes among refugees in East Africa: evidence from a multicountry representative survey
Julia R Pozuelo, Raphael Bradenbrink, Maria Flinder Stierna, Olivier Sterck – Oxford Department of International Development, Queen Elizabeth House (ODID) | Institute of Development Policy, University of Antwerp (IOB) Premium Members Publication Picks Economics for an uncertain world
World Development – George DeMartino, Ilene Grabel, Ian Scoones – Institute of Development Studies (IDS)

Beyond divest vs. engage: a review of the role of institutional investors in an inclusive fossil fuel phase-out
Climate Policy – Clara McDonnell, Joyeeta Gupta – Amsterdam Institute of Social Science Research (AISSR)

Climate-financial trap: an empirical approach to detecting situations of double vulnerability
Bastien Bedossa – The Agence Française de Développement (AFD)

What role for aid for trade in (deep) PTA relations? Empirical evidence from gravity model estimations
Frederik Stender, Tim Vogel – German Institute of Development and Sustainability (IDOS)

Pragmatic peacebuilding for climate change adaptation in cities
Achim Wennmann – The Graduate Institute of International and Development Studies (IHEID)

Nutritional and Antinutritional Potentials of Sorghum:
Agriculture – Tesfakiros Semere, Yemane Tsehaye, Lijalem Tareke, Ola T. Westengen, Siri Fjellheim – Department of International Environment and Development Studies (Noragric)

Heritagising the South China Sea
International Journal of Heritage Studies – Edyta Roszko – Chr.Michelsen Institute (CMI) The Return of Debt Crisis in Developing Countries: Shifting or Maintaining Dominant Development Paradigms?
Development and Change – Andrew M. Fischer, Servaas Storm – International Institute of Social Studies (ISS)

The role of Europe in building system-wide resilience to cross-border climate impacts
Hanne Knaepen, Magnus Benzie, Sophie Desmidt, Adrien Detges, Anum Farhan, Owen Grafham, Héctor Morales Muñoz, Sara Talebian, Fabien Tondel, Susanne Wolfmaier – European Centre for Development Policy Management (ECDPM)

Farming system change under different climate scenarios and its impact on food security
Mitigation and Adaptation Strategies for Global Change – Máriam Abbas, Paulo Flores Ribeiro, José Lima Santos – Centre for African and Development Studies CESA-ISEG

Navigating shifting waters: Subjectivity, oil extraction, and Urarina territorial strategies in the Peruvian Amazon
Geoforum – Luis M. Andueza, Margarita del Águila Villacorta, Lydia E.S. Cole et al – Department of International Development King's College London (DID)

Life out of Place: Revisiting Species Invasions
Special Issue: Anthropocenes – Hanne Cottyn, Livia Cahn, Lionel Devlieger, Julie Carlier (Eds) – Ghent Centre for Global Studies (GCGS – UGent)
Read more about EADI Members
Training
Call for Scholarships: Workshop at Right Livelihood College (RLC) Campus Bonn
Deadline: 09 November 2023: for PhD students from Africa, Asia and Latin America  –  Zentrum für Entwicklungsforschung ZEF

Young Water Diplomats Programme
Deadline 12 November: on-campus specialized course, application –  IHE Delft Institute for Water Education (IHE Delft)

MOOC – Water Cooperation and Diplomacy
IHE Delft Institute for Water Education (IHE Delft)

See more courses and trainings on the EADI website

Opinions
Carving out Africa's role in the emerging global order
Lidet Tadesse Shiferaw – European Centre for Development Policy Management (ECDPM)

Global public investment: a critique
Stephan Klingebiel – German Institute of Development and Sustainability (IDOS)

Mobilising knowledge with care and intent
James Georgalakis, Andrea Ordóñez Llanos – Institute of Development Studies (IDS)

The recent upsurge of violence in Israel and Palestine signifies a "prelude to genocide". How could this happen?
Jeff Handmaker – International Institute of Social Studies (ISS)

Children in Palestine and Israel continue to suffer as international law is routinely ignored
Jason Hart – Centre for Development Studies, University of Bath (CDS)

The Cost of the 2003 US War to Iraqi People
Kali Rubaii – Vienna Institute for International Dialogue and Cooperation (VIDC)

13 Principles for Digital-Transformation-for-Development Research and Consulting
Richard Heeks et al. – Global Development Institute (GDI)

Where are the political champions to coordinate transformative change in the international financial system?
Sébastien Treyer et al. – Institut du développement durable et des relations internationales (IDDRI)

EU hydrogen diplomacy 2.0: aligning climate ambition and energy security
Ignacio Urbasos Arbeloa – Real Instituto Elcano

Lessons for tax policy from the Oslo-hosted WIDER Development Conference
Abrams M.E. Tagem – United Nations University World Institute for Development Economics Research (UNU-WIDER)

See more blogs and opinions on the EADI website

Calls
Call for papers – Global land grabbing conference, 19-21 March 2024, Bogota, Colombia
Deadline: 31 October 2023 – International Institute of Social Studies (ISS)

Call: Nordic Scholarship Programme 2024
Deadline: 5th November 2023 – Nordic Africa Institute (NAI)

Call for papers: 4th International Symposium Properties in Transformation – Law, Politics and Ecology of Changes in Properties Regimes
Deadline: 10 November 2023 – Institute of Development Policy, University of Antwerp (IOB)

Ghent University's Eureast Platform Short-term Fellowship Programme – Call for applications
Deadline: 14 November 2023 – Ghent Centre for Global Studies (GCGS – UGent)

DSA2024 Call for Panels
Deadline: 21 November 2023 – Development Studies Association (DSA)

New Call for Opinion Pieces – CONFLICT, CLIMATE AND MIGRATION
Deadline not stated – Development Studies Association Ireland DSAI

Call for book chapters: Graduates' work in the knowledge economy (with Palgrave)
Deadline: 15 January 2024

See more calls on the EADI website

Jobs
(Senior) Researcher (f/m/diverse) Hamburg Sustainability Conference
German Institute of Development and Sustainability (IDOS) – Deadline: 06 November 2023

Assistant professor position (tenure track)
Centre d'Etudes et de Recherches sur le Développement International (CERDI) – Deadline: 12 November 2023

Two Post-doc positions
Centre d'Etudes et de Recherches sur le Développement International (CERDI) – Deadline: 12 November 2023

Research Associate (PSA)
United Nations University World Institute for Development Economics Research (UNU-WIDER) – Deadline: 15 November 2023

Two-year postdoc position on project 'Trade-based statecraft: the new spatial logic of the state'
Danish Institute for International Studies (DIIS) – Deadline: 15 November 2023

Researcher (m/f/diverse) effectiveness
German Institute of Development and Sustainability (IDOS) – Deadline: 26 November 2023

See more job offers on the EADI website