R. Okech, D. Kieti & V.R. van der Duim (eds.)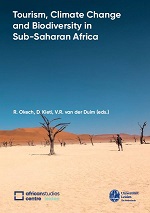 Abstract
This book honours Bob Wishitemi, Professor of Tourism and Wildlife Management at Moi University. Commemorating his death in 2021, this book includes articles by his former colleagues and other scientists who worked with him over the years. The volume presents a variety of approaches to tourism, climate change and biodiversity in Sub-Saharan Africa.
A significant legacy of Prof. Wishitemi is his contribution to academia. His work on biodiversity, conservation (protected) landscapes, culture, communities, and tourism are used as reference materials in tertiary level teaching and research in Kenya, East Africa and beyond.
Order this publication from our webshop