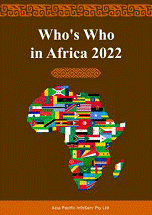 The most powerful, influential and gifted men and womenthroughout Africa
in government, politics, commerce, industry, medicine, science,
the arts and education brought together in these volumes!
Who's Who in Africa compiles information on thousands of African personalities. Additionally, this publication provides you with historical background information on this influential region as well as comprehensive details and analyses on each of the African nations.
People, Power and Prestige throughout Africa – your source for reliable information is found inWho's Who in Africa.
In addition to the biographical coverage, this publication provides informed insights into African life, the African countries, their historical roots and the various African cultures.
Part I: Biographical Section
This section sets out precise biographical details on eminent individuals from every sphere of activity – royalty, politics, the diplomatic service, the military, administration, science, legal professions, finance, arts, education, music, medicine, literature and the world of entertainment etc.
Part II: Surveys of the African Countries
In this section you can find details on the African countries in a matter of seconds. It gives you a country-by-country breakdown of the following subjects – geography, history, constitution, economy and culture.
Part III: Outline of the African World
The third section of Who's Who in Africa takes a historical look at the development of the African World, the differences between the radical factions, languages, ancient cultures and religions. A series of essays illustrates the history of the Africa.
Countries Covered:
Algeria; Angola; Benin; Botswana; Burkina Faso; Burundi; Cabo Verde; Cameroon; Central African Republic; Chad; Comoros; Democratic Republic of the Congo; Republic of the Congo; Cote d'Ivoire; Djibouti; Egypt; Equatorial Guinea; Eritrea; Ethiopia; Gabon; Gambia; Ghana; Guinea; Guinea-Bissau; Kenya; Lesotho; Liberia; Libya; Madagascar; Malawi; Mali; Mauritania; Mauritius; Morocco; Mozambique; Namibia; Niger; Nigeria; Rwanda; Sao Tome and Principe; Senegal; Seychelles; Sierra Leone; Somalia; South Africa; South Sudan; Sudan; Swaziland; Tanzania; Togo; Tunisia; Uganda; Zambia and Zimbabwe
Index of biographies by profession and by country
Indices by country and profession supplement the biographical section.
Book, PDF or CD-Rom. 950 pages