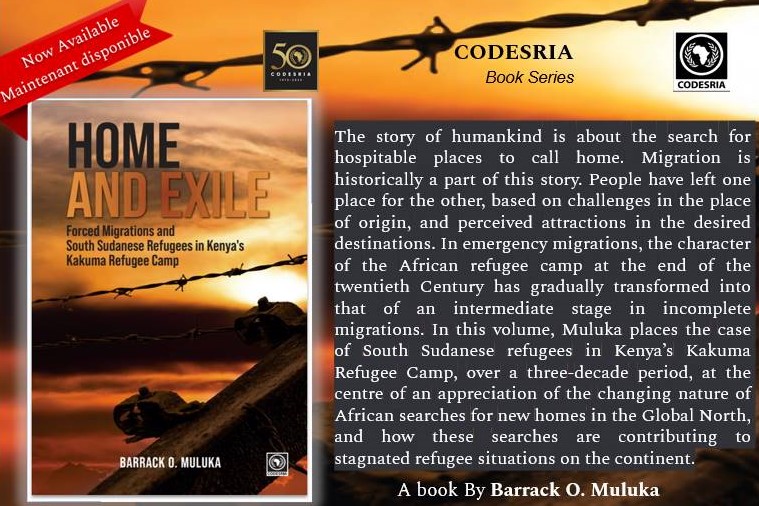 The story of humankind is about the search for hospitable places to call home. Migration is historically a part of this story. People have left one place for the other, based on challenges in the place of origin, and perceived attractions in the desired destinations. In emergency migrations, the character of the African refugee camp at the end of the twentieth Century has gradually transformed into that of an intermediate stage in incomplete migrations.
"Dr Muluka has woven a revealing tapestry on migration in all its facets. With migration from South Sudan as the focus, he has in an incisive, analytical and masterful style handled a delicate subject with intellectual rigour and dexterity: 'Home and Exile' is enriching'PLO Lumumba, The PLO LUMUMBA FOUNDATION and LUMUMBA AND LUMUMBA ADVOCATES In Home and Exile, Muluka highlights the lengths people will go to in seeking a hospitable place to live, even if this takes them a long distance from the places they otherwise memorialise as home. Muluka richly details people's experiences and future expectations of home in situations of protracted displacement, as well as their tension with migration policy. His account of Kakuma offers a compelling insight into exile and the complexity of longing for home.Kelly Staples, Author of Re-theorising Statelessness: A background theory of membership in world politics 'Home and Exile is an insightful and masterfully pragmatic intervention making it essential reading for anyone working on refugee issues. The book also shines a light on the dreams of those who abandon everything they know in search of a better future. Through the book, Dr. Muluka takes us through the ugly side of forced migration and highlights the need for a humane reform framework that includes the reasons that force so many to leave their loved ones and countries behind."Evelyn Jepkemei (PhD), Educationist, Advisory Board Member, The East African Centre for Forced Migration & Displacement
Barrack O. Muluka is a politics and international relations scholar with a focus on migration studies. He earned his PhD from the University of Leicester's School of History and Social Sciences and holds both graduate and undergraduate degrees from the University of Nairobi, including a Master of Arts in Armed Conflict and Peace Studies, a Postgraduate Diploma in Mass Communications, and a Bachelor of Arts in Linguistics. He has experience in publishing and public communications, and is a widely published commentator on political issues.